Intramedullary Nailing (PRECICE)
There are so many reasons for our patients to choose this method: the device is internal and does not cause discomfort like external devices, recovery duration is short (2.5 months) the infection risk is minimal, it is highly reliable, although more expensive than Holyfix and LON.
A few doctors use this method in Turkey. A motorized nail is inserted into the bone. This device is not visible from the outside and the lengthening process can be realized with an electromagnetic remote control device.
It is currently the most comfortable among widespread methods. The operated leg can bear weight partially. Near the end of the lengthening phase, this process can be gradually increased to full weight-bearing. This allows patients to return to their personal and professional routines earlier.
Worldwide, these operations can be performed by very few doctors. All surgeons participate in an intensive training program in the Center of Excellence.
Our patients receive treatment with PRECICE® from experienced, trained surgeons. It is also the most advantageous method in terms of scars formed after surgery. Precice nail offers minimum disadvantage due to the used material and design in terms of health. After complete consolidation of the bone, i.e. after one to one and a half years after implantation, the PRECICE® intramedullary lengthening nail and the receiver can be explanted.
How many scars can appear after surgery?
Precice is the most advantageous method in terms of scars which occur after surgery. Scars are almost invisible.
How much does it cost?
The cost of surgery for bilateral femoral/tibial lengthening is 40 000 EUR.
To ensure a healthy and smooth limb lengthening experience, we have included the following services in this total cost:
meeting patients at the airport and transportation to hotel/hospital
accommodation in a 5-star hotel (1-3 days)
an English-speaking caretaker who will be around 7/24
Istanbul tour (historical and touristic places+boat tour+meals in our famous restaurants)
Medical examinations before operation
5-7 days of hospital stay
Physiotherapist assistance and medications during hospital stay
Walker+crutches+wheelchair
Transportation to airport when leaving
FREE consultation with doctors and consultants whenever you need, even after lengthening is finished
Can I get back my pre-surgery health?
Limb lengthening surgeries, including intramedullary nail method, may take some time, but eventually you can get back your pre-surgery health and do sports that you want. It depends on the method and how much time you will spend for it. To facilitate recovery, the patients have to do physiotherapy and other exercises.
How many centimeters can I gain with Leg Lengthening (LL)?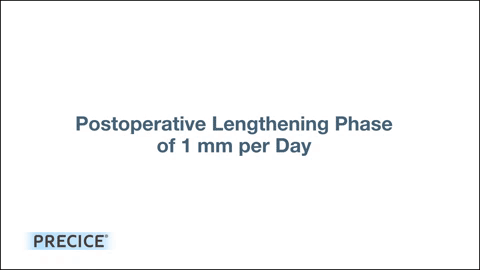 For cosmetic reasons, it is preferable not to lengthen over 6-8 cm per bone section. If a patient desires to lengthen by 12-15 cm, it is preferable to do 6-7 cm on tibia then 6-8 cm on femurs independently rather than to lengthen, for example, 10 cm on one section. The flexibility of your legs is also an important factor. The more flexible your legs are, the more relaxed you will be during the lengthening.
Can I see some images of your patients?
Note: Due to improved quality and increased number of our services, there will be a price increase in May 1. The new prices will be the following: Holyfix: 18000 eur, LON: 24000 eur, Precice 2.2: 45000 eur. Please note that there is limited time to book operation with low prices.
Have a look: PRECICE STRYDE
Leave your number and we will contact you